Bare Essentials Duo
For brighter, hydrated and a glowing complexion. Remove makeup, toxins and give your skin a hydrating cleanse with the Hydrating Cleanser. Follow with the Glow To Go Glycolic Acid Peel Pads to exfoliate your skin, lock in moisture, reduce fine lines and wrinkles and give yourself a radiant glow. 
Step 1: Hydrating Cleanser - Gentle cream cleanser removes makeup and other impurities. A wealth of essential oils and botanical extracts leave skin feeling clean, supple and deeply nourished.
Step 2: Glow To Go Glycolic Acid Peel Pads - Glycolic acid exfoliating pads gently renew skin for a burst of radiance. Convenient on-the-go AHA peel pads—perfect for oily, combination and acne prone skin, enlarged pores and dark spots.
Customer Reviews
TF
08/31/2020
Tracy F.
United States
Awesome
Amazing products!
01/27/2020
Bree G.
United States
Holy grail of skin products
I have very acne prone skin. I have been dealing with severe, chaotic breakouts, inflammation, redness, and black heads all across my cheeks and forehead. I started using Sonage about 3 months ago and the texture and clarity of my skin has gotten almost 100% better. The cleanser is creamy and soft which helps to cleanse and hydrate my skin. It always looks brighter and less red after using it. The peel pads are AMAZING! I use them once or twice a week and they sting a little bit, but in a good way! Like I know it's working! I am a professional makeup artist so it's really important to me that my skin looks good. I trust sonage and am willing to invest in the products for myself and my clients!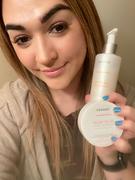 Mrs.
Love your skin care products. They make my skin glow and look bright.
Love one but not so much the other
Sonage hydrating cleaner was a game changer for me. I used to neglect cleansing but after a year of using the hydrating cleaner, I've corrected my cleansing rountine not only because it's easy but and because of the results! The glycolic acid pads I didn't particularly think were all that significant and inadvertently stopped using them. The pads dried out. I prefer liquids, or serums, to disposable pads.